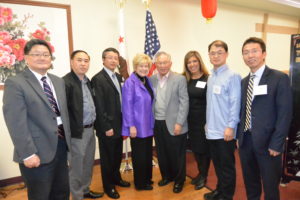 San Diego Asian Americans for Equality (SDAAFE) decides to endorse Bonnie Dumanis for San Diego County Supervisor.
"We are pleased to announce our endorsement of Bonnie Dumanis for the board of supervisors. Based on her excellent  local public service record,  SDAAFE believes that Mrs. Dumanis will be an effective leader on the Board of Supervisors on day one, with unique insight into some of the most significant challenges facing San Diego.", said Shawn He, president of SDAAFE.
Bonnie Dumanis held positions of judge (1994 to 2003) and district attorney (2003 to 2017) of San Diego County.
San Diego Asian Americans for Equality is a nonpartisan and nonprofit organization dedicated to empowering Asian Americans to win equal opportunity and justice through active participation in civic and public affairs in San Diego County. It is the only nonpartisan Asian American Political Action Committee in San Diego County with over 1700 subscribers.
Comments
comments